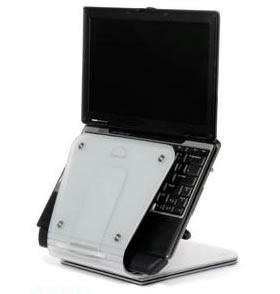 Laptop Holder L2
Item: L2
Description: Designed for use with an external keyboard and mouse, the L2 facilitates ergonomic use of a
laptop computer. By positioning the laptop screen at an ergonomically correct height and depth, notebook computer
users can sit back in their chairs and work in desktop comfort.
---
Laptop Arm
Item: Laptop Arm
Description: Laptop Holder and arm Allows for sitting or standing. Holds laptop for easy maneuvering…great for labs!
Can be clamped or bolted to desktop or wall.
Laptop computers present serious challenges to maintaining healthy posture while computing. Typically, laptop computing causes the user to lean forward. This forward lean has the potential to cause neck pain, upper and lower back pain, decreased productivity, and discomfort while computing and doing other tasks. In worst cases this posture can lead to missed work and workers compensation claims.
Fortunately, there is a solution: A laptop holder used in conjunction with an external keyboard and mouse on a keyboard/mouse platform allows the user to lean back against the backrest of their chair. Maintaining a healthy seated posture and keying and mousing in the neutral reach zone minimizes your risk for problems. The laptop holder elevates the laptop screen to the proper height and allows for neutral head and neck
posture while viewing the laptop monitor further reducing your risks.