Mid level Task and/or Executive Chair
Item: Ergohuman Mesh Model ME&ERG/ME8ERGLO
Description: This chair features a mesh seat and mesh back with all adjustability as listed above. Mesh lumbar offers exceptional support. Only difference between task and executive is the headrest.
Designed and made with the total comfort of humankind in mind. Esthetics, form and function allow this series to utilize a synchro tilt mechanism with infinite lock, sliding seat, pneumatic height adjustment, and headrest option all in one very unique chair.
Colors: Click link at left. Please call for additional fabric and custom color options.
---
Therapod Therapist Highback Chair
Item: 50180-AT-D-FA-F-OCDAN
Description: Highly adjustable and highly comfortable, the Therapod® Therapist provides patented back support – and beyond. The only seating system in the world offering fully adjustable back support, the Therapod Therapist Basic Highback supports every region of your back using body-specific strap adjustments. The net result is a comfortable fit superbly suited to your entire back. Manufacturer details
Many color choices available
Price: $795.00
---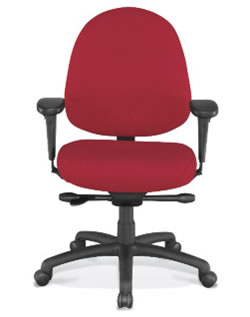 Presto Task Chair
Item: Presto 52090-AT-D-F1-SS-H
Description: Presto Ergonomic Task Chair
Adjustments: Seat Depth and Height, Backrest Tilt and Height, Synchrotilt, Arm Height and Width
Many color choices available
Price: $395.00
---
Humanscale Freedom Task Chair
Item: Humanscale Freedom Model # F-111-G-W-101
Description: The Freedom Chair is designed to provide the best of ergonomic benefit with simplistic controls. The Freedom is designed for movement, which is required for healthy body and seated posture. Adjustable backrest, seat height, and depth are included.
More details…
Each of these chair options has the adjustability features that make them truly ergonomic.
Each features height, tilt, seat pan depth, back height, and arm adjustabilty. These products are currently being used by fortune 500 companies and Universities verifying their reliability and effectiveness.
These chairs have gone through rigorous field testing and meet all of the ANSI and BIFMA requirements for commercial office buildings. Each of these chair options have all the adjustability features you need to be comfortable at work.
Each comes with a 5 year warranty and money back guarantee.