Deluxe Foot Rest
Item: FM300B
Description: Adjustable height with rocking platform.
---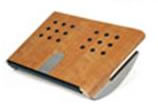 Foot Rest
Item: FM-500
Description: The award-winning FM500 offers functionality and support in a simple and elegant package.
---

Standard Foot Rest
Item: EAF
Description: Height and slope adjustable footrest.
An adjustable height footrest is the most effective way to support your legs and feet
when computing at the correct monitor and keyboard height leave our feet off the floor. In addition, there are tangible benefits to using a footrest that has motion qualities to improve circulation and reduce swelling.
For more information please click here.